HAND CRAFTED ITALIAN WEDDING ALBUMS
PROFESSIONALLY DESIGNED WEDDING ALBUMS
Tell your story with elegance and style
Your wedding and the story it tells is the most important part of our job. The most eloquent way to tell that story is in a beautiful, hand crafted wedding album that brings the photos from your special day to life. Booking your wedding photography with Brovado means you will receive an exquisite, completely customized, professionally designed, hand bound wedding album filled with the most personally meaningful and beautiful wedding photographs of your choice.
CUSTOM
These handcrafted, professionally designed albums are completely customizable. You choose the type of cover, page material and your favorite photos to make this a one-of-a-kind album that's all your own. Album cover options include laser engraved gold or silver plate, traditionally embossed vintage leather, and transparent acrylic crystal. A 30 page album is about 1.5" thick and weighs almost three pounds! With more than sixty steps, the whole production process is handled with the most advanced digital media and printing technologies. Specialists at our Venice printing studio work to ensure the color correction, design, specialty printing and handmade binding of the books. This is a high-end product that supersedes everything like it on the market. Your friends and family will love the high profile magazine style of the album, and you won't be able to help showing it off.
QUALITY
Printed on only the highest quality materials and hand-bound in Italy, every wedding album is created to last for generations, preserving the photographic work from your wedding day and retaining the book's shape and colors. These unique, internationally patented albums come with a lifetime guarantee. They will look like new even when you share them with your grandchildren.
ELEGANCE
Manufactured to lay flat upon opening, there are no creases down the center of your full page photo spreads, creating elegant two page displays. It's like having an entire book filled with 10x24" canvas prints of your wedding photographs!
GUESTBOOK ALBUMS
CLICK HERE for more information!
Showcase your engagement photos with custom designed guestbook albums to display at your wedding! This is the best of both worlds - show off the beauty of your engagement pictures, and preserve the best wishes of your wedding guests in an album that you will want to look at over and over for years to come. Guests can write their personal messages right on the pages of these unique wedding guestbooks!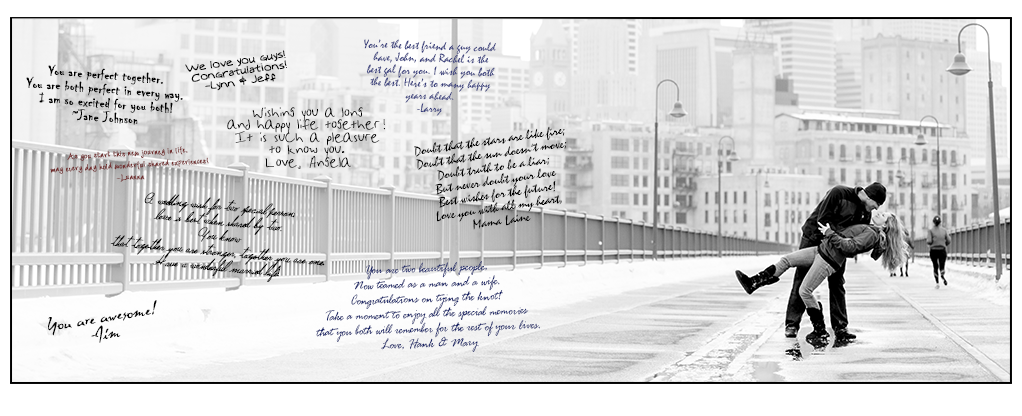 You will fall in love with your custom designed luxury wedding album!